Saranac Lake Hotels .com is the premier online guide to historic Saranac Lake, New York showcasing hundreds of exciting attractions throughout the Adirondack region including Lake Placid (host of the 1932 & 1980 winter Olympics), Tupper Lake and Saranac Lake. We invite you to take a virtual tour of some of our most popular travel destinations including Paul Smiths, Loon Lake, Rainbow Lake, Lake Clear, Raybrook, Keene, Keene Valley, Jay, Wilmington, Essex, Ticonderoga, Crown Point, Schroon Lake , Westport , Bloomingdale, St. Regis Falls, Saranac, Malone and the Adirondack High Peaks.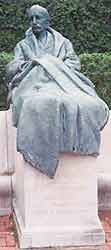 Dr. Edward L. Trudeau
1844-1915
(photo courtesy of Historic Saranac Lake)
The Village of Saranac Lake is located in the heart of the magnificent High Peaks Region and is famous for its many beautiful lakes and streams including the Upper, Lower and Middle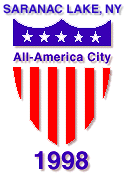 Saranac Lakes, Kiwassa Lake, Oseetah Lake, Lake Flower and Upper and Lower St. Regis Lakes. These waters offer some of the finest fishing in the country and are home to many native species of trout, bass and pike. The Saranac Lake region offers visitors a rich variety of historic, artistic and cultural attractions. Saranac Lake is also famous for its magnificent 'Great Camps' dating back to the golden era of the early 1900's. These sprawling compounds epitomize what is known today as the rustic 'Adirondack style' representing a unique chapter in Americian architectural history. These rustic camps served as huge retreats for wealthy families like the Rockefellers and Vanderbilts for half a century. Today, visitors can actually tour some of these 'Great Camps' and experience their spectacular beauty first hand.
Saranac Lake is also well known for its fresh mountain air and rejuvenating climate! In the early 1900's the Village of Saranac Lake became an international destination and pioneer health resort for people from all walks of life suffering from Tuberculosis. Dr. Edward Livingston Trudeau discovered the cure for Tuberculosis gaining worldwide attention for this quaint mountain village.




SAVE UP TO 50% ON
SARANAC LAKE & LAKE PLACID LODGING
Today, the organization known as Historic Saranac Lake, an architectural preservation group, has done a remarkable job preserving and recognizing the 'Cure History' of Saranac Lake through the nomination of 170 properties to the National Register of Historic Places. Current projects include management of the restored Union Depot as a tourist, transportation and recreation center, and the restoration of the Bela Bartok Cabin and Dr. E.L. Trudeau's Saranac Laboratory. Saranac Lake has now become an important cultural tourism destination in Upstate New York. In 1995 the Village of Saranac Lake was ranked #1 among small towns in New York State and 11th in the United States. In 1998 the prestigious All America City status was bestowed upon the Village in recognition of Saranac Lake's unique history and character.


Adirondack Culinary Arts
The Adirondacks & the Lake Champlain Valley of Upstate New York & Vermont have long been known for their truly unique & varied cuisine ranging from fresh caught native brook trout cooked over an open campfire to world class dining at five star resorts. In the internationally acclaimed Olympic Village of Lake Placid, diners can choose from exciting restaurants with menus featuring everything from sushi and health foods to hearty Adirondack homecooked meals. The Culinary Arts program at Paul Smith's College in the Adirondacks was founded on the principle of learning by doing. Many of todays local chefs learned their trade at Paul Smith's. Click on the links below to learn more about culinary arts and fine dining in the Adirondacks.


Culinary Institutes

click here
Search for two- & four-year degrees in Culinary Arts & Baking
Side-by-side comparisons of 35 culinary schools.
Learn the culinary skills you need to get ahead!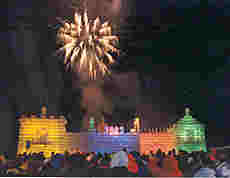 Saranac Lake Winter Carnival
The Saranac Lake Winter Carnival is the oldest winter festival in the eastern United States. The Winter Carnival's colorful history can be traced all the way back to the late

1800's when Saranac Lake was a world-famous health resort. In 1897, the first year of the winter carnival, Saranac Lake was already an established community and center of commerce in the Adirondack Tri-lakes region. Its clean mountain air and high altitude provided rejuvenation for hundreds of tuberculosis sufferers drawn from all over the United States and Canada. To ease the long, cold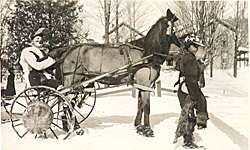 Adirondack winters and to promote outdoor activities and sports, the first "Mid-Winter Carnival" was created by the Pontiac Club in 1896. This was a two day event filled with skiing, skating, parties and a celebratory parade down Main Street.
The rest is history!


Saranac Lake Hotels .com gives you everything you need to know to plan your trip online when visiting Upstate New York and the Adirondacks. It's all right here at your fingertips . . . with just a click of your mouse!

More historic landmarks and photos of Saranac Lake:
Have you ever thought about publishing your very own book about Saranac Lake?

You Have The Talent, We Have The Resources!



Are you an author looking to publish your masterpiece? BookPublishers.com could connect talented writers like you with willing book publishers. For many talented authors, the most difficult obstacle isn't writer's block—it's finding a receptive publisher to publish their books. Because publishers have to sift through so many works, they may dismiss some unfairly, or be so short-staffed that they don't have the time to give each manuscript its fair consideration.
Book Publishers.com
click here
For those who decide that finding a publisher isn't the right choice for them, self-publishing can be a great alternative. With self-publishing a writer can maintain editorial control, as well as keep all proceeds from the book sales. Whatever your preference, BookPublishers.com wants to help you on your journey to become a published author! You have the talent, we have the resources.
click here for more information


Worried About Losing your Job?
Our goal is to help make your life recession proof!
We have put together a directory of resources to help you navigate around the gathering storm on the economic horizon. There is job security if you have the skills and services people need. Avoid managerial jobs in retail sectors or construction-related jobs that could possibly feel the pinch when cash gets tight.






The Saranac chain of lakes consists of Upper Saranac Lake , Middle Saranac Lake, Lower Saranac Lake , Lake Ossetah, Lake Flower and the Saranac River. The route from Upper Saranac Lake to Lake Flower covers around 25 miles.

The water flows in a southeastern direction from Upper Saranac Lake to Middle Saranac Lake, which then flows east to Lower Saranac Lake, Oseetah Lake, Saranac River, and north to Lake Flower in the Village of Saranac Lake. The Saranac River then continues until it flows into Lake Champlain in Plattsburgh. The route travels along thousands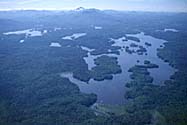 of acres of "Forever Wild" designated State lands, waterways and beaches.
You can paddle the entire chain with only one short portage between Upper Saranac Lake and Middle Saranac Lake. A good starting point is on the north end of Upper Saranac Lake on Back Bay.
Paddling south you will pass Dry and Green Islands. Continuing south, Markham Point, Square Bay, and Saginaw Bay, are all on the east shore. Buck Island is at the head of Saginaw Bay. Fish Creek Bay, on the west. Continuing south through The Narrows, the lake opens up again. Birch Point, Eagle Island, Gull Point, Gull Bay, Deer Island and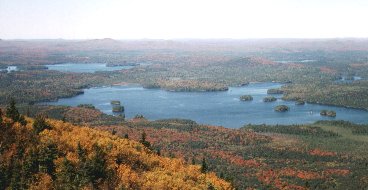 Doctors Island are all landmarks to guide your trip. Chapel Island, located on your right at the southern end of the lake, has summer church services open to the public. At the south end of the lake, head east into Huckleberry Bay and look for signs marking Bartlett Carry. This is the only portage on this journey and is a short walk to Middle Saranac Lake.
Head East across Middle Saranac Lake to the end of the lake where the Saranac River takes you to the Upper Locks. Paddle further down the Saranac River and you will be in Lower Saranac Lake. Pass Pope Bay, Pope Island and Picnic Point and head southeast into the Saranac River once more. You will travel through First Pond, go under Route 3 and then into Second Pond. The route then takes you on the Saranac River into the Lower Locks. After the locks the river widens into Oseetah Lake. You will pass Demerse, Winonah and Papoose Islands and Otter Slide which will be on your left. Follow the river into Lake Flower and the public boat launch in the Village of Saranac Lake.

The Adirondack Chair
The Adirondack Chair is one of the most popular outdoor chairs in the United States. The chair incorporates design ideas used for many decades; wide arms, contoured seat and a scalloped back. Adirondack chairs are comfortable because the chair back inclines 30 degrees and is curved to conform to your back giving excellent lower back support. Its deep, angled seat and broad arm rests, make the perfect place for a plate of food & drink or garden gloves. click here for more Adirondack chairs.
Rustic Furniture
The idea of behind rustic furniture was to create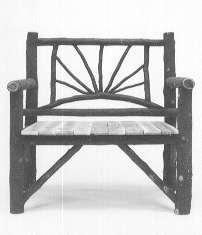 interesting pieces using natural materials such as twigs and logs that would blend into a decor and not stand out . Rustic furniture makers today follow the age old tradition of using natural materials to create spectacular furniture and rustic decor pieces. Rustic furniture usually has no set line or angles. Each piece is individually crafted .
Once you have a log home with rustic elements you will want to continue that element with the furniture and decorations.
Finding beautiful log furniture, stairs and railings, and other pieces that will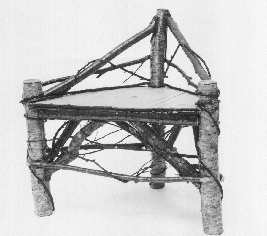 complement your beautiful log home is easier than you might think. Log furniture is naturally beautiful. You can see all of the character and wood grain of the logs used in every piece of wood furniture. Log furniture made with timbers, twigs and branches brings nature right into your home or cabin. From custom crafted twig furniture, stairs and railings to antler chandeliers, your unique rustic look is just a few clicks away.
Save up to 85% With Just One Click!Search and compare the lowest prices on the web!
Everything from snowmobiles & camping gear to designer handbags, laptops & leather furniture!
Click here
ONLINE VISITOR & RELOCATION GUIDE
Click here to get valuable resources and tools to help you relocate, buy a home, find a great loan & much more!
Saranac Lake Hotels .com
43 Broadway
Saranac Lake, New York 12983
Phone: 518-891-3745 Fax: 518-891-3768



"Donate that old car or pickup to your favorite charity & receive a valuable tax deduction...All with just one click!"
Donate Your Used Vehicle to Charity!
Donate your used car, boat, motorcycle, van or RV to your favorite charity & receive full fair market value as a tax deduction!
Click here to learn more and search for your favorite charity!
Free nationwide pickup and no complicated paperwork.
It's fast and easy. All vehicles accepted.
Search and choose from hundreds of religious institutions, schools, and charitable organizations including cancer research, multiple sclerosis and heart disease.

We invite you to visit our Adirondack Gallery showcasing unique Adirondack Furniture ~ Antler Chandeliers & Lamps ~ Hand Painted Canoe Paddles

~

Adirondack Packbaskets ~ Adirondack Prints ~ Authentic Birch Bark Framing ~ and beautiful hand crafted gifts. Click here! We also offer interior design services for Adirondack
style camps & homes.

Birchbark Picture Frames

Antler Chandeliers

Snowshoe Lamps

Hand Painted Canoe Paddles

SaranacLakeHotels.com
43 Broadway
Saranac Lake, New York 12983
Phone: 518-891-3745 Fax: 518-891-3768
E-Mail: RobGrant@northnet.org

This website is owned and operated by
adirondacks.com internet publishing group.
For advertising and editorial content,
please contact Rob Grant;
adirondacks.com reserves the right to reject,
modify or cancel any advertising at its sole discretion.

For web site design, marketing, or consultant services
Contact Adirondacks.com
518-891-3745


webmaster: Susan Moore
All copy & images copyright- Adirondacks.com Internet Publishing Group